There's a first time for everything - and buying your very first sex toy can be an especially memorable experience, as many of our customers have told us. We have asked our customer Jess to tell us all about her first time buying a vibrator in India. This is her story.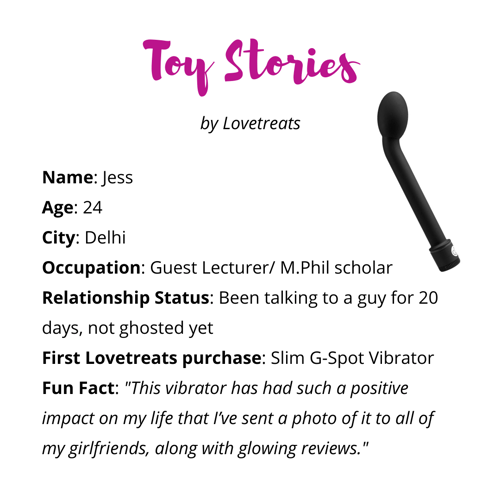 I am the proud owner of my first vibrator. And as such, I'd like to share with you how my life has been since making such a transformative and life-changing purchase.
You see, a vibrator, although a material item, transcends materialism and manifests itself as a symbol of sexual empowerment and a progressing society. If it sounds like I'm making too much of such a small thing (although it certainly doesn't feel small), it may be because - unlike me - you are fortunate enough to have grown up in an environment which accepts and embraces sexual pleasure even when it doesn't feature a cisgender, heterosexual man as its protagonist.
Unfortunately for most of us here in India, the right to pleasure and sexual empowerment is not something we grow up learning about.
But no matter what your background, I invite you to follow along as I describe my experiences with, and thoughts about, my new vibrator.
First of all, the vibrator that I purchased is called the Slim G-Spot Vibe, and I bought it right here, from the Lovetreats online store. I was looking for a vibrator that would stimulate my G-spot, because I haven't ever achieved an orgasm through vaginal penetration. And since this was going to be my first (but certainly not my last) sex toy purchase, I wanted to buy something special.
After perusing the range of products posted on Lovetreats' Instagram and available for sale in the online shop, I came upon the Slim G-Spot Vibe. It was love at first sight—this vibrator was slender, attractive and looked like it could be managed by a first-time user, so without a second thought, I bought it!
OK, actually, that's not entirely true.
I live with my parents and I was absolutely terrified that they would find out about my intimate purchase.
So, before buying it, I read Lovetreats' strict customer privacy policy, which means, among other things, that the product is shipped and delivered in an unmarked box. I read their policy over and over until the words stopped making sense, just to be sure that it wouldn't arrive with a huge, colourful sticker with the text: "PARENTS BEWARE: SEX TOY FOR YOUR DAUGHTER INSIDE!!!!" But, after I felt reassured, then without a second thought, I bought it! (Although I am utterly grateful for the discreet packaging, I also dearly hope that one day we live in a society where anyone can buy a sex toy with their head held high).
Anyways, back to the toy: This product hasn't only made my own sex life better by helping me experience greater pleasure, but it has also increased the depth of intimacy between my partner and me.
Let's just say that phone sex, because of exponentially increased pleasure on my side of the line, in turn resulting in exponentially increased pleasure on his side of the line, has brought us closer together in a way that I had never before imagined was possible.
In fact, this vibrator has had such a positive impact on my life that I've sent a photo of it to all of my girlfriends, along with glowing reviews, because what kind of friend lets another friend miss out on something this good?
All joking and light-heartedness aside, and speaking from my experiences as an Indian woman, I think one of the reasons that more and more women in India are purchasing vibrators and other sex toys, is because it allows them to take their pleasure into their own hands, (no pun intended).
Despite us now being nearly 20 years into the 21st century, the mutual orgasm - when both partners climax during sexual encounters - is not honoured in the way that it should be. The fact is - and if you can't relate, again, count yourself extremely fortunate - most women don't orgasm during sex, and most men either aren't aware that that's unfair, or they simply don't care.
Sex toys are changing this dynamic and helping women orgasm as often or in many cases, more often (because the clitoris is awesome!) than men.
To anyone curious about purchasing a sex toy, but having doubts for any reason, to you I say this: Go for it. This is something you owe to yourself. I know the fear is real when it comes to exploring your body and discovering your sexuality because we, meaning all people, but especially women and especially in India, are not told nearly enough to take care of ourselves and practice self-love.
In my opinion, buying a sex toy for yourself is an indication of how seriously you take your right to pleasure.
To close, I will leave you with this: My vibrator is slim, it's sleek, and, will you have multiple orgasms?
You bet.
This article is part of our 'Toy Stories' series in which we interview real Lovetreats customers about their experience buying sex toys in India. If you want to be part of this project, please email us at lovetreats@lovetreats.in!