We recently interviewed Santhosh - a young professional living the big city life, and currently happily single. About a month ago, he purchased a masturbator and lube from Lovetreats. Santhosh is not, by any means a virgin when it comes to sex toys, in fact, he's been buying them for almost a decade now.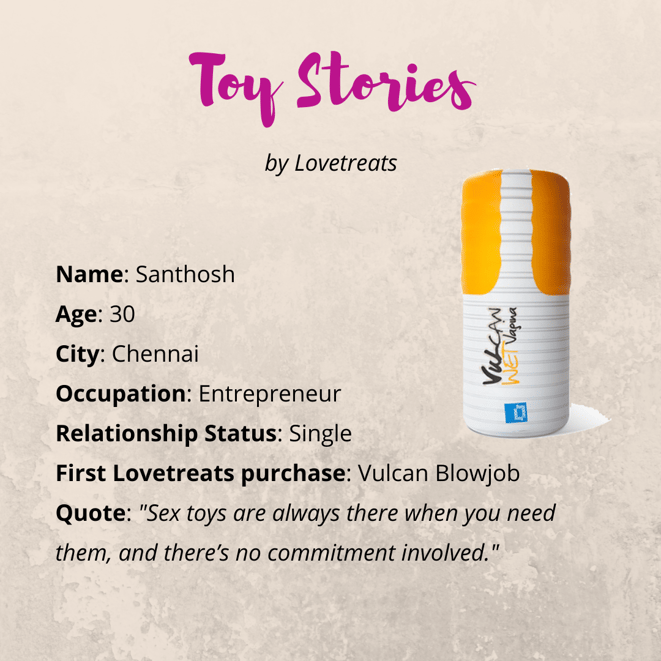 Santhosh saw a video about Lovetreats and our story on Youtube, so he decided to head to the website to see what we are all about. He was a bit apprehensive about making his purchase because he had never bought anything from Lovetreats before, so to play it safe he bought a model he was already familiar with, and it has worked out great for him.
He uses his toy on his own, because he hasn't yet had the chance to try it out with someone else. He's looking forward to having the chance, but for now he's happy having some one-on-one time with his masturbator. And he's already recommended it to many of his friends, and those who have purchased it are pleased to say the least.
"I was a bit skeptical about buying such products online but now after receiving it and experiencing it, I can confirm that my money was well spent." He says that the Lovetreats' discreet shipping policy was of the utmost importance, as he shares an apartment with some other folks, and you never know how quick to judge some people can be.
Santhosh moves within a relatively liberal circle, and he himself is optimistic about sex culture in India. He says he doesn't talk about sex openly with his female friends, but his close male friends occasionally trade knowledge. When asked how sex is viewed in India, he says that in Indian culture, sex isn't something traditionally openly discussed. However, he does point out that the Kamasutra is from India. And then when you consider that the population rate of India is continuously rapidly increasing...chances are that it's a pretty sexy place (behind closed doors at least).
All joking aside, he says that the way that sex is viewed in Indian culture is definitely progressing. 10 years ago, for example, most people had quite conservative views about sex, but those views are progressing, especially with the younger generations.
As our interview with Santhosh comes to a close, he reflects a bit on the integral role that sex toys play in his life. He is a young entrepreneur who started his own business, which sounds way easier than it actually is. It has required a lot of hard work and determination and undivided attention as well. He attributes his single relationship status to the amount of time he's had to spend working. But he's only human, so sometimes, he just wants to have sex. Sex toys have been the best option for him, since they are always there when you need them, and there's no commitment involved. Once you're satisfied, you can go back to focusing 100% on the task at hand. He even goes so far as to say that sex toys have helped him in is career, and in getting to the point where he is now the owner of a large company with projects in several cities.
This really goes to show that a healthy sex life has wide reaches and can influence seemingly unrelated aspects of your life. In fact, that's one of the reasons that he has recommended the masturbator to so many of his friends - as a way to help them focus more in other arenas of their lives.
For now, sex toys are all Santhosh needs, but when the time is right, he'll be elated to use them with a partner.
Explore our range of masturbators and fleshlights here.
This article is part of our 'Toy Stories' series in which we interview real Lovetreats customers about their experience buying sex toys in India. If you want to be part of this project, please email us at lovetreats@lovetreats.in!