More people in India have become interested in sex toys, but many do not know that devices for adult sexual gratification are now widely available in India. Different retail channels mean different shopping experiences, different product quality, and different selections of products, especially for sex toys! Lovetreats maps out your best retail options for sex toys in India, and we point out the pros and cons of each experience to make shopping for adult toys easy.
For starters, it's essential to know that sex toys are not illegal in India, as many mistakenly believe. Indian laws and regulations governing the importation or sale of sex toys focus on obscenity in the packaging or public presentation of said toys. The result is a large selection of imported and domestically produced lovemaking toys available to the market today for Indian women and Indian men. You can now easily buy vibrators, dildos, anal toys, and other sex toys in India if you know where to look.
---
How to Buy Sex Toys in India: Three Shopping Options
Shopping for sex toys in Indian drug stores

Great for basics like condoms, lubes or starter sex toys. This a convenient option as pharmacies are everywhere. Druggists often carry legit brands but have a limited selection. A public purchase.
Shopping for sex toys in Indian markets

Great for discounted pricing. A more comprehensive selection of items than those offered by druggists. You can find quality items, but market sellers often carry lower-quality products or bad knock-offs. Good finds are out there if you know what to look for. A public purchase.
Shopping for sex toys online

Wide selection of products. You can find all levels of quality from top-shelf sex toys to lower-quality imports from China. Pricing can be competitive and your purchase is made in private. You can't see or feel your item before buying it. Online shopping is your best choice if you live in a small city or outside of cities. No customs issues if you buy online from an Indian retailer.
---
Sex Toys in Indian Drug Stores
This might surprise many, but you can buy basic sex toys in many Indian drug stores and even some pharmacies. Options will be pretty limited, focusing on basics such as condoms, lubes, and maybe starter toys like cock rings. Vibrating cock rings from brands like Durex are widely available in drug stores across India. You can also find a range of lubricants, including flavoured lubricants, sexual enhancement creams and oils. Usually, druggists place these items along with condoms. If you're looking for toys for anal play, or BDSM or bondage sessions, drug stores won't be your first stop.
Pros of buying sex toys in a drug store/pharmacy:
safe and convenient shopping experience
can find imported brands such as Durex
value for money
usually compliant with Indian laws & regulations
you receive your product immediately
can physically inspect the product's package
Cons of buying adult toys in a drug store / pharmacy:
very limited options: mainly about condoms, lubes, and maybe basic cock rings
limited privacy: it is a public purchase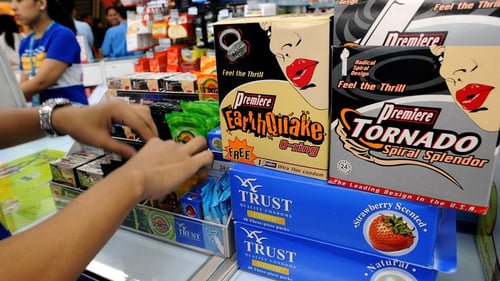 Sex Toys in Indian Markets
Adventurous shoppers can find sex toys in some markets in larger Indian cities. Vendors in markets will have a broader selection of adult toys than druggists, so finding a vibrator or dildo is totally feasible in Indian markets. These items are often not lawfully imported and do not necessarily comply with India's obscenity laws. Many of said products are discount items from China and are made of lower-quality materials. There is no guarantee that the product will be skin safe or work as advertised. If you are new to sex toys and are not up to speed on quality brands or how to tell quality products from bad knock-offs, markets may not be your best choice at first. You can sometimes find legitimate products, often at a reasonable price. Take a close look at the item's packaging for telltale signs of counterfeiting, such as spelling mistakes, low-quality printing, or simply a price that is way too good to be true. A cheap price usually means a cheap or low quality sex toy.
At first, it might be a bit challenging to find the right vendors. Sellers may or may not openly display their sex toy wares, so you might have to ask around. Asking a total stranger where to find sex toys might be a little embarrassing at first. Best to do it beaming with confidence and authority. Market sellers will have more products than you might find in drugstores, so finding a dildo or vibrator is totally possible.
Pros of buying sex toys in a market:
you can see and touch the item before purchase to judge its quality
more variety of product than in drug stores
will receive your product immediately
pricing can be fair
may sometimes be able to bargain the price down
Cons of buying adult toys in a market:
products can be counterfeits or knock-offs
products can be of low quality
not always legal
limited options compared to online purchases
no privacy - the purchase is made in public
rarely original brands from Europe or North America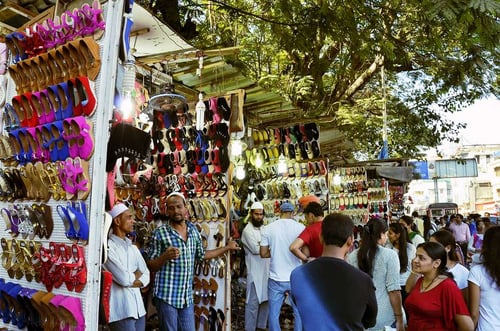 Buying Sex Toys Online
If privacy is necessary, the easiest and most convenient way of shopping for sex toys is from online retailers. E-commerce giants Amazon and Flipkart have just started selling sex toys in India. Still, several specialised online shops offer a large variety of lovemaking toys for shipping anywhere in India. Specialised Indian online retailers feature vibrators, rabbit vibrators, dildos, and anal toys for purchase from within India, so there won't be any customs issues. Buying vibrators and dildos from an online Indian shop means you don't have to sacrifice quality, reasonable pricing, and fast delivery to buy your favourite toy.
Shipping and packaging are typically discreet, so your privacy is safe. And as you are making your purchase online, you don't have to worry about Auntie walking by as you browse through a stand of anal dildos at the market.
While some online sex shops in India do not entirely comply with legal and regulatory requirements (including some large retailers), Lovetreats imports every item lawfully because we fully comply with Indian laws and regulations. We also offer a warranty for most of our sex toys.
Online shops outside India can have a great selection and offer top-quality products, but importing these items will likely lead to issues with Indian Customs. They often seize products (wonder where taken items end up??) and impose hefty fines.
Pros of buying sex toys online from Indian retailers:
large variety of sex toys
no problems with customs officials
shoppers in small cities and towns can access any product
discreet shipping across India
original brands
domestic and imported brands
the shopping experience offers privacy
wide selection of retailers
Cons of buying sex toys online:
not possible to see and touch the item before buying
some online retailers have obscene or offensive messaging onsite
shipping can take up to a week, depending on your location
not all retailers are fully compliant with laws and regulations
can be difficult to identify customer friendly retailers online
shopping with an international retailer can lead to problems with customs
Your Shopping Options In a Nutshell
So if you are looking for a basic product (condoms, lubes, cock ring) that you want right away, don't care about making your purchase in public, and are not too concerned about a wide selection of brands, drug stores are the way to go.
If you want to haggle the price of your toy, you are really OK with buying sex toys in public and can live with a lower-quality product; then markets are a good option.
If you prefer to have guarantees of quality and competitive pricing, want customer service support, are looking for a wide variety of products, or live in a smaller city or town, then online is the way to go. You'll need to plan ahead, as shipping can take up to a week.
Fun Videos about Shopping for Sex Toys in India
VICE explores buying sex toys in India:
A very cute and vid about a ladies experience shopping for sex toys in India (the vid is age restricted so please sign into your Google or Youtube accounts to view)
Any questions or concerns regarding ordering a sex toy? Need some advice on selecting your first adult toy? Email us at lovetreats@lovetreats.in and we'll be happy to assist you in journey!