Here's the thing—you know those super-hot scenes in TV shows and movies when a woman enters a room with a guy she likes and tackles him rugby-style with desire and passion? They're both breathing heavily, chests heaving, and kissing each other as if the world were going to end. Clothes are ripped off without a care to buttons and seams and thrown on the floor without a second thought. The women in those scenes are sexy, passionate and in-charge. They know what they want, and what they want is sex.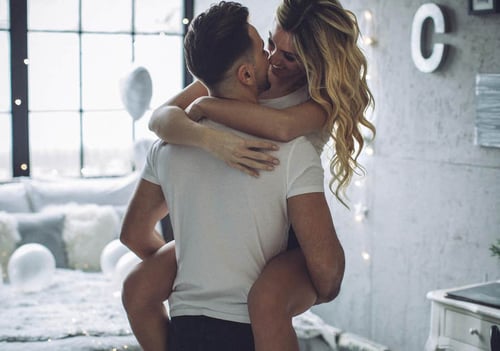 These scenes usually end with the woman having a vaginal orgasm at the same time that her male partner comes, and both lie there fully satisfied.
Well, I am not one of those women. All respect to those women—I'd love to be more like that actually. But, as unsexy as it sounds, I don't spend a lot of my time thinking about sex, nor desiring it. And when I see my partner walk into the room, I'm very rarely filled with the urge to rip their clothes off and take them right then and there. In my early 20s, this made me feel sort of inadequate as a woman. I mean, I'm a woman of the 21st century, a Millennial, in fact. I should be in-charge and brimming with sexuality.
But, over the years I have come to realize that it's OK if I'm not always naturally bursting with those desires…because there are plenty of ways to to help!
And that's where my Womanizer comes in - it's one of those relatively new versions that stimulates the clitoris with air pulses. My partner bought it for me for my birthday, because pre-vibrator, when we had sex, I would rarely orgasm. And he, being a considerate person, felt pretty bad about it and couldn't fully enjoy his orgasms knowing that I wasn't sharing in the experience.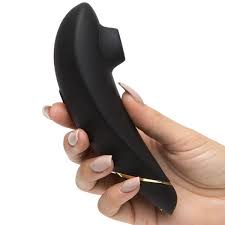 And that's not to say he didn't do his part—because he did. He would go down on me, he would finger me, and he would insist on more foreplay in order to get me in the mood, but well, you know, sometimes, my clit just wasn't having it. And I could make myself orgasm during sex, but I'd really have to be willing to put some effort into it—you know focusing on it and willing myself to ignore the fatigue building up in my fingers.
So, usually the whole session would end with him orgasming, and then feeling bad that I didn't orgasm, and then I would say something along the lines of 'no it's fine, I just enjoy being intimate with you', but I'd secretly be resenting that he could always enjoy the experience, and for me, sex almost felt like just something I should be doing as a 20-something modern woman. Anyways, at the end I would joke with him and say if we had a vibrator I'd be coming all the time. So, bless his heart, he took the hint and got me the vibrator.
And boy, has this little toy changed our sex life!
Not only do I orgasm every time we have sex, but now I orgasm 3–4 times, and the only effort my grateful fingers have to make is pushing a button to increase intensity. Not only that, but now I'm initiating sex about 50% of the time, which is a huge increase up from 0%. As for my partner, I think at first he may have felt a little bit like he alone wasn't enough for me, and that's why I needed the vibrator, but once he realised that thanks to the vibrator, every sexual encounter left me in a pleasure-filled haze, he got over that pretty fast. It took us both by surprise how this little toy was able to have such a huge impact on our lives!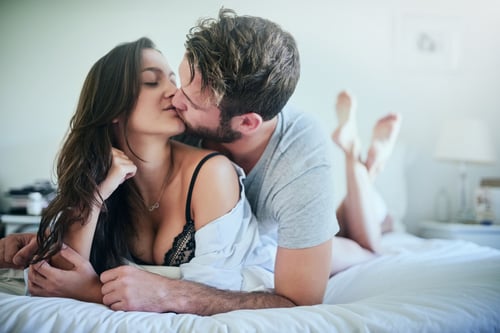 Now whenever we're looking at each other with those lustful eyes, he raises his eyebrows and points to where we keep the vibrator, and then his whole face breaks into a broad grin as he turns it on and knows he is about to turn my world upside down with intense pleasure.
And I'm happy to say, that sometimes when we enter a room together, I do tackle him rugby-style with desire and passion, and more than a few torn shirts could use some mending.
In conclusion, I would like to say that if you have no idea what I'm talking about, because you always want to have sex and you have no difficulty orgasming every time, that is wonderful and great and you should feel really good about it.
But, if you are on the other end of the spectrum like me, you shouldn't feel bad at all. Both are normal, natural, wonderful and feminine. But if you would like to be more in touch with your sexual side, get a vibrator—it's as simple as that!
Are you curious to try out sex toys with your partner? Check out which toys are rated highest for couples by our customers!