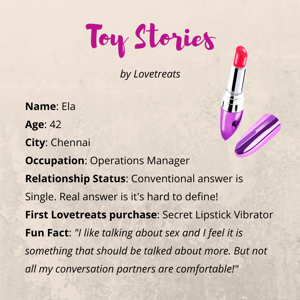 We may find ourselves in the 21st century, but sometimes it seems like the conversation around sex got left behind in the Dark Ages. Thankfully there are people like our customer Ela who is slowly but surely helping to pull the dialogue into modern times through self-education and an open mind. Let's hear a little bit more about her journey with sex toys including her most recent purchase!
Ela was 42 and living in Chennai when she purchased the Secret Lipstick Vibrator. She was already using a LELO vibrator and was looking for something more compact and discreet than the one she already had.
Well, the Lipstick Vibrator is perfect for that—it literally looks like a tube of lipstick! Another aspect of the Lipstick Vibrator that made it an attractive purchase was the fact that it's small enough to be used to stimulate the clitoris during sex—so great for use with a partner. It also only has one setting, making it an non-intimidating introduction for first-timers.
"I like the mini vibrator I bought and hope to come back again. At first I thought it was a bit underpowered, since I am used to LELO, but sometimes a slower build-up is the different experience you need!"
She decided to purchase her new vibrator from Lovetreats because she felt it was a reputable website compared to the sleazier operations that she has found to be available in India. The low price offered was also a deciding factor. She says that keeping her purchase discreet was absolutely imperative, which is another reason why Lovetreats' discreet packaging policy suited her—all treats arrive in subtle packaging, with plain labels that name neither the product nor the website from whence it came, so your purchase can remain completely anonymous.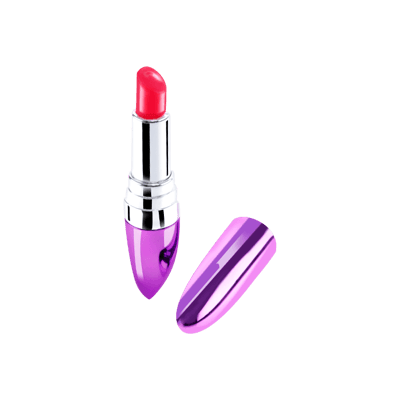 Ela uses her vibrator both with her partner and alone, and she says that this purchase, along with the purchase of her first vibrator, has really brought her sexual needs to the forefront.
When reflecting on the culture she grew up in, she says that there is a general lack of knowledge around sex, and when it is brought up, it normally brings quite a negative stigma along with it.
She attributes the fact that she waited until she was in her early 40s to buy her first sex toy to this stigma, and she wishes that knowledge about sex was taught and learned in a more positive light, in which case she probably would have purchased a toy much sooner, and thus had a healthier relationship with her own sexuality.
Side note: That being said—ladies it's never too late—50 is the new 30 and it doesn't matter when you begin to enjoy sex, the important thing is that you do.
Anyways, back to Ela.
She emphasises the negative view of sex in her culture by saying, "I grew up with a very sex-negative culture. It took years of self-education, conversations with like-minded people, and great sexual experiences to change to being sex-positive."
Ela isn't sure how much the way sex is viewed is changing. She, for one, now views sex in a very positive and healthy light: "I like talking about sex and I feel it is something that should be talked about more. But not all my conversation partners are comfortable!"
That last bit can only be solved, she says, if both men and women receive better education about sex, and work to get rid of the baggage that many people carry around due to their inherited and learned negative views about sex—whether perpetuated by society, the education system, family or even friends. She ends her reflection by giving some advice to those who may be interested in buying a sex toy, but hesitant to do so. She says that both men and women should try buying a sex toy at least once, and there's really nothing to lose since the whole purchase can be completed very discreetly.
The last thing she adds is that she'd like to see the Lipstick Vibrator in a wider range of colours! We will work on that, Ela - promise! :)
This article is part of our 'Toy Stories' series in which we interview real Lovetreats customers about their experience buying sex toys in India. If you want to be part of this project, please email us at lovetreats@lovetreats.in!