If you're new to the concept, a fleshlight is an extraordinarily advanced, lifelike sex toy for masturbation. It simulates a vaginal, anal or oral opening with shape, texture and colouring that looks – and feels – almost like the real thing. Designs vary, and different models provide different sensations, whether designed to emulate a specific intimate body part or to test stamina and control. One thing is certain: Your orgasms will never be the same! You can buy men's masturbators in India primarily online.
Ready to experience a mind-blowing orgasm? At Lovetreats, male masturbators are some of our bestselling men's sex toys. You can see why it might be a popular option for both first-time toy purchasers and seasoned solo players alike! Here's everything you need to know about playing with a fleshlight.
Before you buy: Read the reviews to get the real lowdown
It makes sense that you're eager to choose your fleshlight, get it shipped and enjoy solo time as quickly as possible. But Gentlemen, before purchasing, read reviews of different fleshlight models and not just the marketing descriptions. Reviews are usually written by genuine males – just like you – and they will give you a better idea of what to expect and what features they appreciate, along with essential tricks or tips for enjoying your new toy to the fullest. Reviews go a long way and are worth reading.
Experiment with different sensations
A few preparation items will take your fleshlight experience to the next level. Firstly, while these toys mimic real intimate body parts, they can't compensate for natural warmth and wetness on their own. The secret? Warm up your fleshlight before you use it for an even more realistic experience. The easiest way to do this is to place your toy into a sink or bowl of warm water for a few minutes before use. Also, the fleshlight material requires a water-based lube, but the brand and its thickness are up to you. Using a warming lubricant can add a new level of pleasure to the experience of using a fleshlight. The warming sensation will make it feel a lot more realistic.
On the other hand, putting the sleeve in the fridge before using the fleshlight gives a cooling sensation that many men find highly pleasurable. Experiment with different sensations to find out what works for you! A warmed or cooled sleeve, a few drops of lube, and you're on your way to a sexual experience of new heights.
And remember, always, always use generous amounts of lube when playing with a fleshlight.
Use your fleshlight for stamina training
Playing with a fleshlight can help you recognise when you are going to orgasm and how to delay the process. You will inevitably feel yourself getting closer to the point of no return (the point at which you cannot stop yourself from climaxing). Once you cross the point of no return, you will orgasm and ejaculate.

By focusing on your sensations, you can learn exactly when you will hit that point of no return. As you feel it approaching, stop and then thrust more gently. You can repeat this several times until you finally decide to "let go" and allow yourself to orgasm. Repeat this training regularly, and you'll soon find that you can control when you climax. Another bonus is that you may find your orgasms become stronger and more intense. With more build-up before they happen, explosive climaxes could well be the outcome.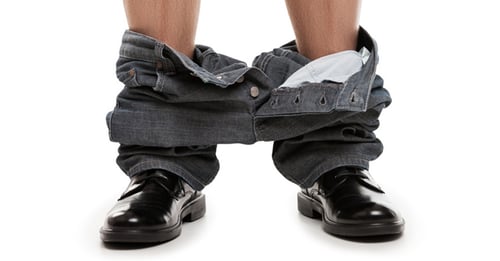 Find the setup that works for you

For the most part, fleshlights are designed to be handheld. You penetrate the sleeve and use your toy to stroke your penis much as you would with standalone masturbation. Seems easy, right? This method lets you control the speed and intensity as you stroke, which is ideal if you're somewhat new to fleshlights.

However, a sleeve's outer body usually spans about 2–4 inches in width, so when you're still getting used to it, it can seem tiring or uncomfortable to hold for extended periods. It won't be long before you grow used to it. You can also put the toy between a mattress and a bed frame to fix it in one place. Either way, it can be a friendly alternative when you just want a little hands-free action.

Ask your partner to get involved
Having your partner get you hard and use your favourite sex toy on you can take foreplay to the next level. So, ask your partner if they would be up for incorporating your fleshlight into your sex life.
Now, ladies, we need to stop here for a moment and make sure you're comfortable with this! No, your man doesn't like sex with you any less because he's using a sex toy for self-pleasure. No, this isn't about playing down your skills in the bedroom. Your partner doesn't feel that way about your vibrator, so remember to extend the same favour! Plus, watching him get off can be super hot. Or take it to the next level, and drive him wild with some edging play!
Taking care of your fleshlight will make it last longer
Like any valuable item you own, taking good care of your fleshlight makes it more enjoyable to use and likely to last longer. Here's how: Clean the inside sleeve with warm water and mild antibacterial soap after every use. You can also buy specialized toy cleaners for your fleshlight designed for this purpose. Let your fleshlight air dry completely (this helps deter bacteria), and then store it in its case. Taking proper care of your fleshlight will make it more comfortable and ensure it lasts for as many uses as possible.
Once you've chosen a fleshlight and done some prep work, all you need is a little imagination, and you'll be on your way to an unforgettable masturbation experience. Ready to start? Shop our best sellers here.