When it comes to first-time sex toy users, taking the first step can seem anxiety-provoking, especially in India where it's uncommon for women or couples to openly talk about intimacy and erotic toys. But for many of our customers, making the choice to buy their first vibrator ends up changing their entire outlook on female pleasure - it can truly be a life-changing experience. Take our customer Anita, for example, who bought her first sex toy from Lovetreats in 2019.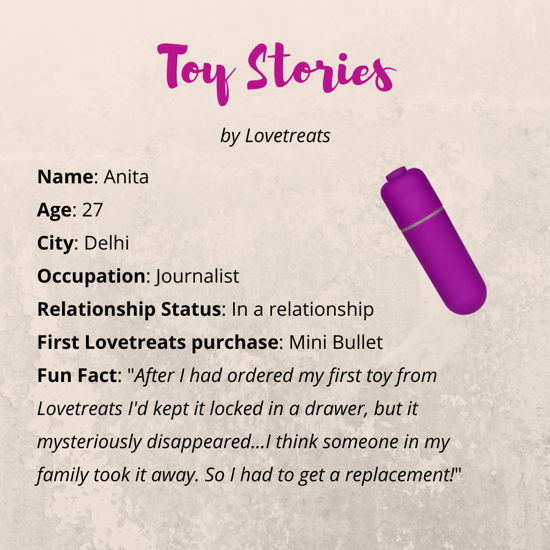 Anita, a 27 year old journalist living in Delhi, had always wanted to experiment with a vibrator, but it was actually her boyfriend who encouraged her to become a Lovetreats customer. "He sent me the link to the website," she says.
"I'd always wanted a sex toy and Lovetreats had the exact one I was looking for – a discreet bullet vibrator."
Anita opted for the 10-Speed Vibrating Bullet, which is popular among our new or first-time sex toy users because it's sleek, compact and easy to use. It has ten different speed settings so there's plenty of options for the degree of stimulation, which is perfect for those just getting used to adult toys.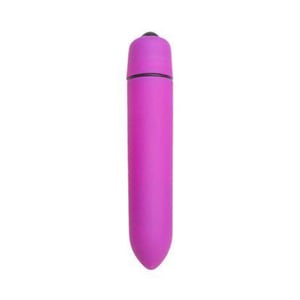 Anita lives with her parents, so it was important for her to find a vibrator that not only felt amazing, but was discreet. That ruled out realistic dildos and any larger size sex toys like rabbit vibrators. After reviewing the options for discreet toys available on Lovetreats, Anita opted for a mini bullet. Not only does the 10-Speed Vibrating Bullet look almost like a tube of lipstick, but it comes in Lovetreat's subtle packaging, with plain labels that don't list the name of the product or website. In fact, discreet shipping is the number one concern on most if our customers' minds! "The fact that it has discreet shipping is a plus, especially because I live with my parents," says Anita. "I also love that it isn't too loud and is easy to operate."
In the end, taking the plunge to invest in her first vibrator was one of the best decisions Anita has ever made for herself.
"It definitely has changed my view on how pleasurable an orgasm can be. I never thought it would be this good or that it doesn't have to stop at just one!"
Though Anita says her own circle of friends isn't one to talk openly about using sex toys, she thinks as a whole, some parts of India are increasingly embracing it. "Living in Delhi, I think women are much more open to talking about vibrators."
Anita is a perfect example of what we at Lovetreats strive to do for our customers: promote self love and help women and men in India to open up a whole new world of pleasure and potential.
"Lovetreats has definitely opened up a much-needed avenue for women looking to buy vibrators and other toys," says Anita. "They always write to ask if you liked the product you ordered, a personal touch I quite like. I will definitely recommend them to others!"
A funny anecdote that Anita shared with us is how her first vibrator mysteriously went missing one day, so she ended up having to replace it. We hope that whoever owns it now is making good use of it!
"After I had ordered my first toy from Lovetreats I'd kept it locked in a drawer, but it mysteriously disappeared...I think someone in my family took it away. So I had to get a replacement!"
Ready to see what you're missing out on? Check out our guide to picking out your first sex toy!
This article is part of our 'Toy Stories' series in which we interview real Lovetreats customers about their experience buying sex toys in India. If you want to be part of this project, please email us at lovetreats@lovetreats.in!